前言:短短幾週  雷諾不再"ING"
上個月才看到雷諾發表R29, 車體完全以ING為主
正在慶幸 ING沒有因金融海嘯而退縮提早解約
沒想到 這幾天 就傳出 ING確定年底約到 就不再續約
明年 雷諾 就沒有ING的車殼
背景提要: 19 Jan,2009 新車發表
"金融海嘯肆虐,沒有嚇倒Renault車隊主要贊助商荷蘭ING安泰壽險公司,即使ING將台灣的股份全數賣給了富邦人壽,但選擇持續贊助Renault車隊的ING公司財務結構似乎仍舊紮實。而今年除了ING的橘色獅子外,新的贊助商Total公司也成為Renault的油料供應商,因此在結合了Renault車隊的傳統黃色,ING的白色與橘色以及TOTAL的紅色之後,就成了大家所見R29的正式圖裝了。"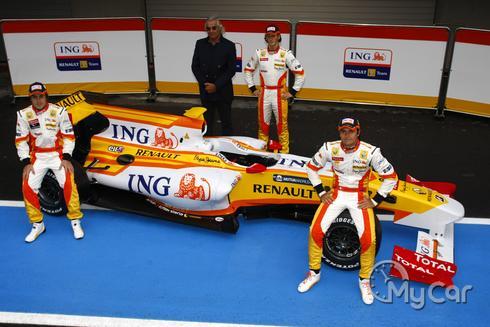 背景提要: 28 Jan,2009 HP加入贊助行列
HP joins the race with ING Renault F1 Team
背景提要二: 20:19PM GMT 16 Feb 2009  金主 撐不下去了
The Dutch-based banking and insurance company, whose backing has provided a significant slice of the former world champions' budget, have announced that they will not be renewing their deal with the French team, and will be pulling out of the sport at the end of the season.
文章還提到去年ING集團贊助運動活動共約8千6百萬,F1就佔去6千5百萬, 佔車隊一半以上的收益.
ING聲明稿原文::
ING to end F1 sponsoring programme after 2009 season

Amsterdam, 16 February 2009

In light of the recently announced cost reduction programme, ING confirmed today not to renew the three year sponsorship (2007-2009) contract with Renault F1 and to end its presence in F1 beyond the 2009 season.

ING's participation in Formula 1 was the company's first global sponsorship project aimed at delivering revenue and raising the global brand awareness, particularly in ING's key growth markets. Over the past two years, ING has successfully achieved its objectives for the F1 sponsorship, raising its overall global brand awareness by 16% (March 07 vs November 08).

F1 remains a powerful business driver even in a difficult economic climate. Whilst ING has cut the F1 sponsorship costs by 40% in the final year, revenue generating opportunities will be a continuing focus through 2009. ING has enjoyed the relationship with Renault F1 and will continue to work closely with the team during the final year of the partnership.



Press enquiries

Nanne Bos,
ING Group
+31 20 541 6516

Jon Tracey,
ING Renault F1 Programme Communications
+44 2077676373/ +44 7730 051846
隨著ING的聲明稿,Renualt Team Leader Flavio Briatore也只能表示 非常感謝過去美好的合作 最近我們也感受到金融風暴的影響 未來會朝向減低成本的目標邁進
但是我覺得他心裡應該是想說.. XX的 現在這個景氣  你是要我找誰贊助..
話說贊助起原
唉 其實我覺得ING的贊助 某個程度來說 應該也算是誤會一場
2007-2009年的合約  當初一定是看準Alonso 05-06連拿兩屆冠軍
沒想到07年第一年贊助  Alonso就走了
結果Alonso在麥隊的排擠下 08年回到老東家
卻又因為車子調整不好 只能讓我們看到季末偶一為之的燦爛表現
畢竟 ING本業也真的影響很大  一直以來 Alonso 要去Ferrari的傳聞不斷
誰知道ING繼續贊助後  Alonso會不會突然又轉隊  這一切 都太難抓住了
這也難怪ING在重整以後  決定要退出這個市場
畢竟這是一個很花錢的事業
雖然大家都說要省錢省成本   但是在計較那麼0.01秒的市場中
為了會一點 多花一點錢  似乎大家都覺得很值得
FIA當然也有控管成本計畫  也希望大家協助
但目前FIA的成本控管計畫究竟為何呢?
FIA President Max Mosley是希望每隊每一季花費可以控制在5千萬歐元以內
但光是HONDA 去年就已經花費3億元
大家覺得有可能嗎
總而言之
我最大的心願 就是Alonso 拿冠軍
希望他今年能跑好一點
為自己車隊多跑出幾個贊助商
加油加油
我現在
GENEVA, Switzerland, January 28, 2009 – HP today announced a two year partnership with the ING Renault F1 team. The announcement was made at the launch of Renault's new car, the R29, at Renault's office in Paris.
Innovation, technology and performance are key criteria that both companies share and are critical to the success in the worlds of Formula 1 and technology. HP supplies highly reliable, performance-engineered products and solutions to support the racing stable on its course to victory.
To effectively conduct the necessary calculations and stimulations in the development of Renault's single-seaters, HP supplied the test facility in the UK with HP ProLiant BL456c servers to integrate the workflow and support.
For the conception and analysis office, HP has provided HP xw6600 workstations with the latest technology and 3D notion. The HP 8530w mobile workstations allow for the recovery and analysis of data when the cars are at the racetrack.
"This partnership is proof of HP's technology and innovation leadership in a highly performance-driven environment," said Eric Cador, senior vice president, HP PSG EMEA. "The quality and reliability of our products and solutions supplied to the ING Renault F1 Team will help to further improve their competitive performance on the track."
"We are delighted to integrate HP in our technology partnership," commented Flavio Briatore, Managing Director of the ING Renault F1 Team. "The importance of IT in the Formula One world is very well known and we trust the most respected and prestigious engineers in the world to support our needs."
Guillaume Jacquemin, Head of IT at ING Renault F1 team adds: "Performance and reliability of our IT systems are mission critical in a Grand Prix for the fine-tuning of our design, construction and performance of the car. The signing of this partnership with HP is an important step to maintain the top level of competitiveness."

About HP
HP, the world's largest technology company, simplifies the technology experience for consumers and businesses with a portfolio that spans printing, personal computing, software, services and IT infrastructure. More information about HP (NYSE: HPQ) is available at http://www.hp.com/.
Note to editors: More news from HP, including links to RSS feeds, is available at http://www.hp.com/hpinfo/newsroom/.

.

This news release contains forward-looking statements that involve risks, uncertainties and assumptions. If such risks or uncertainties materialize or such assumptions prove incorrect, the results of HP and its consolidated subsidiaries could differ materially from those expressed or implied by such forward-looking statements and assumptions. All statements other than statements of historical fact are statements that could be deemed forward-looking statements, including but not limited to statements of the plans, strategies and objectives of management for future operations; any statements concerning expected development, performance or market share relating to products and services; any statements regarding anticipated operational and financial results; any statements of expectation or belief; and any statements of assumptions underlying any of the foregoing. Risks, uncertainties and assumptions include macroeconomic and geopolitical trends and events; the execution and performance of contracts by HP and its customers, suppliers and partners; the achievement of expected operational and financial results; and other risks that are described in HP's filings with the Securities and Exchange Commission, including but not limited to HP's Annual Report on Form 10-K for the fiscal year ended October 31, 2008. HP assumes no obligation and does not intend to update these forward-looking statements.

© 2009 Hewlett-Packard Development Company, L.P. The information contained herein is subject to change without notice. The only warranties for HP products and services are set forth in the express warranty statements accompanying such products and services. Nothing herein should be construed as constituting an additional warranty. HP shall not be liable for technical or editorial errors or omissions contained herein.
Editorial contacts:

Manuel Linnig, HP
+41 22 780 4140
manuel.linnig@hp.com

Hannah Dickson
Porter Novelli for HP
+33 476 84 49 64
hannah.dickson@porternovelli.fr



Hewlett-Packard Europe
150 Route du Nant-d'Avril
CH-1217 Meyrin 2
Geneva, Switzerland
www.hp.com